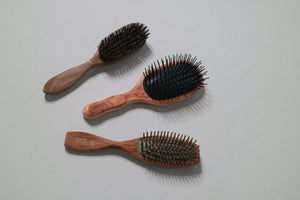 "I never realized how important a hair brush could be until owning this one. I seriously can't travel without it. It gives my hair great volume and is comfortable in your hand."

- TV personality and award winning chef Melissa King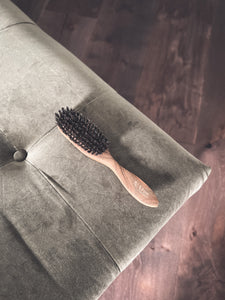 High quality hair brushes for high priority hair
NAtve is a hair maintenance brand designed for both professionals and hair enthusiasts alike. Our mission is to create a new wave of luxury styling tools that help accentuate modern and classic hairstyles.
Feel the difference
Our high quality wooden hair brushes are the perfect tools for detangling and styling naturally textured hair. The bristles are gentle yet effective with the perfect amount of spacing and cushion for an even glide.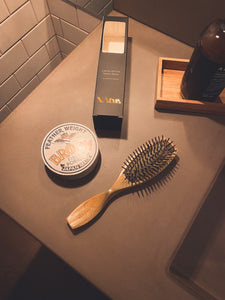 Our Vision
Welcome to NAtve.co, the ultimate destination for premium men's hair brushes. We understand that men's hair needs are unique, which is why we have curated a collection of high-quality hair brushes that cater to all hair types and styles.
Our hair brushes are made from the finest materials, including boar hair, synthetic bristles, and natural repurposed woods such as Olive wood and Sandalwood ,to ensure that your hair remains healthy and damage-free. We offer a premium selection of hair brushes, including styling brushes, paddle brushes, and styling combs, each designed to cater to specific hair types and styles.
At NAtve.co, we believe that grooming should be easy and hassle-free. That is why our hair brushes are designed to make your hair care routine effortless. Whether you are looking to add volume to your hair or neutralize unruly locks, our hair brushes are the perfect tool for the job.

Our vision is to provide each and every person a hair styling tool to look and feel their best. That is why we offer luxury men's hair brushes at premium yet affordable prices, without compromising on quality. Shop with us today and upgrade your hair care routine.
About Us
Meet the Founder - Franz Jeremy Burget:
Franz Jeremy Burge't is a celebrated name in the San Francisco barbering scene, known for his impeccable skills and unwavering dedication to his craft. With over 11 years of experience perfecting the art of barbering and owning one of the top reviewed barbershops in San Francisco 20th Salon and Barber, Franz has an innate understanding of hair's unique needs and its profound impact on personal expression and confidence.
The Birth of NAtve:
NAtve was born from Franz's belief that hair care should be a sensory journey, an intimate ritual that connects you to your hair and nurtures your well-being. Inspired by his native home of the San Francisco Bay Area's dynamic spirit and his reverence for the natural world, Franz envisioned a hair brush company that blends innovation with nature's wisdom.
Craftsmanship and Innovation:
Every NAtve hair brush is a testament to meticulous and innovative design. Franz's profound understanding of hair textures and grooming needs has led to the creation of brushes that not only detangle and style but also invigorate the scalp and promote healthy hair growth. Our brushes are carefully crafted to provide a soothing experience that harmonizes with your hair's natural tendencies.
Nature as our Muse:
San Francisco's stunning landscapes, from the majestic coastline to the serene parks, serve as a constant source of inspiration for NAtve. We infuse elements of nature into our designs, materials, and values, ensuring that every stroke of our brush is a reminder of the beauty that surrounds us.
Sustainability at Heart:
At NAtve, our commitment to sustainability is unwavering. We prioritize using responsibly sourced materials and eco-friendly packaging to minimize our ecological footprint. Our dedication to sustainability extends to our business practices, partnerships, and the impact we strive to make on the environment.
Join the NAtve Family:
We invite you to join us on this journey of redefining hair care, where the expertise of a San Francisco barber merges with innovative solutions that respect and enhance your hair's natural beauty. Whether you're a trendsetter, a grooming enthusiast, or someone seeking a more mindful hair care experience, NAtve welcomes you to our family.
Conclusion:
NAtve is more than just a hair brush company; it's a tribute to the artistry of barbering and a celebration of the bond between hair, nature, and self. As we continue to push the boundaries of hair care innovation while staying rooted in our commitment to sustainability, we invite you to embark on this enriching journey with us. Join us in embracing the beauty of nature and the art of grooming through NAtve's exceptional hair brushes.